An evil force has penetrated our universe, possessing Black Widow Productions in Hollywood. The studio owner, Elvira herself has vanished. And now three cavernous movie sets - a graveyard, haunted house, and catacombs - are erupting with the most hideous monsters of gothic horror.

Your quest? Find and rescue Elvira from three craven worlds then fight a final cataclysmic battle with a nether world entity of awesome dimension and fury.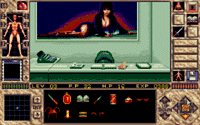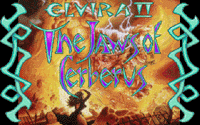 Nearly 4000 Locations - Five times larger than Elvira 1.

Supernaturally stunning VGA colour graphics.

Three huge and horrifying worlds to explore.

Over 120 hours of suspense - intense gameplay.

More than 7000 deadly weapons, scrolls and other tools of the trade.

Fully animated encounters with hundreds of formidable opponents.

New on-screen spell book generator.

100% point & click game control.

Haunting Soundtrack.
ORDER THE HORROR PACK NOW IN OUR ONLINE STORE!
Elvira and Mistress of the Dark are trademarks of Queen "B" Productions.
Elvira Images © Queen "B" Productions.